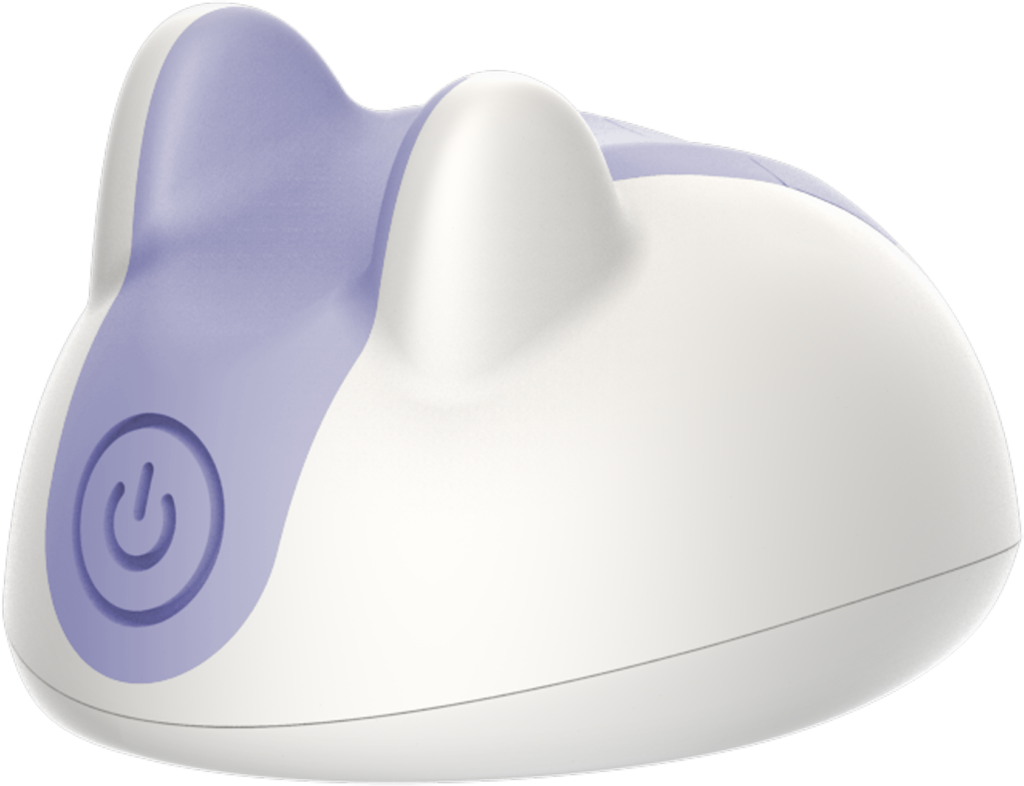 General Questions
What is the Roo?

The Roo is a portable, easy-to-use prenatal listening system that allows you to hear, track and save your unborn baby's heartbeat, starting at 20 weeks!
It uses Hubble Connected's innovative sound tracking software, so you can listen and share with friends and family.

Unlike ultrasounds, the Roo emits no energy into you or your baby. It is a completely safe and non-invasive way to listen to your baby's heartbeat.
Plus, no messy gels or wires required!
Which app should I use with my Roo device?

You need to download Hubble Connected app:
What else can I use the app for?

With the Hubble Connected app, you can access a free Prenatal Tracker to conveniently log and keep track of different activities such as water intake, kicks, a bump tracker and weight tracker. There's also a section in the app with pregnancy tips from leading organizations and answers to frequently asked questions.
I can feel my baby is moving however the device is not able to read the heartbeat?

Your baby is quite active and moves often. It is not unusual for your baby to move into a position where the heartbeat cannot be heard, especially during the earlier months of your pregnancy. If your baby moves while you are listening, simply change the position of the Roo or try again later. If your baby is particularly active, the kicking sounds may make it difficult to hear the drumming of the tiny heartbeat.

Your weight before and during pregnancy may affect how early the system can detect your baby's heartbeat. A slender mother will generally hear the baby's heartbeat earlier in her pregnancy. This is a passive listening device and, therefore, it has no means of penetrating your body's insulating layer of fat. Mothers with a larger percentage of fat may have to wait a few more weeks until the baby's heartbeat becomes strong enough to be heard.
How long does the Roo battery last and how can I charge it?

The battery usually lasts for 5 days and charging is easy. Simply plug the USB charging cord into the ROO; a full charge usually takes 10 hours.
What if the ROO has lost its Bluetooth® link with your Smart Device?

Make sure the battery built into the ROO is fully charged.
If your Smart Device is too far away it may be going out of range, so move the Smart Device closer to the ROO (within 5~8 meter).
Make sure the device is added in the Hubble Connected app. Check if there is a need to pair the ROO and your Smart Device again.
Use of other 2.4 GHz products, such as wireless networks (Wi-Fi® routers), Bluetooth™ systems, or microwave ovens, may cause interference with this product. Keep the Roo at least 5ft (1.5m) away from these types of products or turn them off if they appear to be causing interference.
What is the best period for optimal detection?

The system will usually begin to detect baby sounds at the beginning of your third trimester – typically around 20 weeks. At this stage of your pregnancy, adjust the position of the Roo sensors between your navel and pubic bone.
Why did my Smart Device sync during my first use, but now it won't sync or give any activity?

Make sure the Hubble Connected app is opened when you want to read the activity.
Remove your Roo from the app. Re-pair the device with your Smart device by adding the Roo back to the app.
I still have a question about my ROO, where can I get help?

Please contact our customer support team at:

Email: support@Rooprenatal.com
Website: www.Rooprenatal.com
Warranty
Consumer Products and Accessories Limited Warranty ("Warranty")

Consumer Products and Accessories Limited Warranty ("Warranty")

How to Obtain Warranty Service or Other Information?
To obtain service or information, please email:

Email: support@hubbleconnected.com

General Information

What Does this Warranty Cover?
Subject to the exclusions contained below, BINATONE warrants that this Hubble Connected branded product ("Product") or certified accessory ("Accessory") sold for use with this product that it manufactured to be free from defects in materials and workmanship under normal consumer usage for the period outlined below. This Warranty is your exclusive warranty and is not transferable.

Who is covered?

This Warranty extends only to the first consumer purchaser, and is not transferable.

What will BINATONE do?

BINATONE or its authorized distributor at its option and within a commercially reasonable time, will at no charge repair or replace any Products or Accessories that does not conform to this Warranty. We may use functionally equivalent reconditioned/ refurbished/ pre-owned or new Products, Accessories or parts.

What Other Limitations Are There?
ANY IMPLIED WARRANTIES, INCLUDING WITHOUT LIMITATION THE IMPLIED WARRANTIES OF MERCHANTABILITY AND FITNESS FOR A PARTICULAR PURPOSE, SHALL BE LIMITED TO THE DURATION OF THIS LIMITED WARRANTY, OTHERWISE THE REPAIR OR REPLACEMENT PROVIDED UNDER THIS EXPRESS LIMITED WARRANTY IS THE EXCLUSIVE REMEDY OF THE CONSUMER, AND IS PROVIDED IN LIEU OF ALL OTHER WARRANTIES, EXPRESS OR IMPLIED. IN NO EVENT SHALL HUBBLE CONNECTED OR BINATONE BE LIABLE, WHETHER IN CONTRACT OR TORT (INCLUDING NEGLIGENCE) FOR DAMAGES IN EXCESS OF THE PURCHASE PRICE OF THE PRODUCT OR ACCESSORY, OR FOR ANY INDIRECT, INCIDENTAL, SPECIAL OR CONSEQUENTIAL DAMAGES OF ANY KIND, OR LOSS OF REVENUE OR PROFITS, LOSS OF BUSINESS, LOSS OF INFORMATION OR OTHER FINANCIAL LOSS ARISING OUT OF OR IN CONNECTION WITH THE ABILITY OR INABILITY TO USE THE PRODUCTS OR ACCESSORIES TO THE FULL EXTENT THESE DAMAGES MAY BE DISCLAIMED BY LAW.
Some jurisdictions do not allow the limitation or exclusion of incidental or consequential damages, or limitation on the length of an implied warranty, so the above limitations or exclusions may not apply to you. This Warranty gives you specific legal rights, and you may also have other rights that vary from one jurisdiction to another.

Exclusions

Normal Wear and Tear – Periodic maintenance, repair and replacement of parts
due to normal wear and tear are excluded from coverage.

Batteries – Only batteries whose fully charged capacity falls below 80% of their
rated capacity and batteries that leak are covered by this Warranty.

Abuse & Misuse – Defects or damage that result from: (a) improper operation, storage, misuse or abuse, accident or neglect, such as physical damage (cracks, scratches, etc.) to the surface of the product resulting from misuse; (b) contact with liquid, water, rain, extreme humidity or heavy perspiration, sand, dirt or the like, extreme heat, or food; (c) use of the Products or Accessories for commercial purposes or subjecting the Product or Accessory to abnormal usage or conditions; or (d) other acts which are not the fault of Hubble Connected or BINATONE, are excluded from coverage.

Use of Non-Hubble Connected branded Products and Accessories – Defects or damage that result from the use of Non-Hubble Connected branded or certified Products or Accessories or other peripheral equipment are excluded from coverage.

Unauthorized Service or Modification – Defects or damages resulting from service, testing, adjustment, installation, maintenance, alteration, or modification in any way by someone other than Hubble Connected, BINATONE or its authorized service centers, are excluded from coverage.

Products Covered Length of Coverage

Consumer Products: One (1) year from the date of the products original purchase by the first consumer purchaser of the product.

Consumer Accessories: Ninety (90) days from the date of the accessories original purchase by the first consumer purchaser of the product.

Consumer Products and Accessories that are Repaired or Replaced:
The balance of the original warranty or for Ninety (90) days from the date returned to the consumer, whichever is longer.

General
Altered Products. Products or Accessories with (a) serial numbers or date tags that have been removed, altered or obliterated; (b) broken seals or that show evidence of tampering; (c) mismatched board serial numbers; or (d) nonconforming or non-Hubble Connected branded housings, or parts, are excluded from coverage.


Communication Services
Defects, damages, or the failure of Products or Accessories due to any communication service or signal you may subscribe to or use with the Products or Accessories is excluded from coverage.

How to Obtain Warranty Service or Other Information?
To obtain service or information, please call:

Email: support@hubbleconnected.com

You will receive instructions on how to ship the Products or Accessories at your expense and risk, to a BINATONE Authorized Repair Center. To obtain service, you must include: (a) the Product or Accessory; (b) the original proof of purchase (receipt) which includes the date, place and seller of the Product; (c) if a warranty card was included in your box, a completed warranty card showing the serial number of the Product; (d) a written description of the problem; and, most importantly; (e) your address and telephone number.

These terms and conditions constitute the complete warranty agreement between you and BINATONE regarding the Products or Accessories purchased by you, and supersede any prior agreement or representations, including representations made in any literature publications or promotional materials issued by BINATONE or representations made by any agent employee or staff of BINATONE, that may have been made in connection with the said purchase.