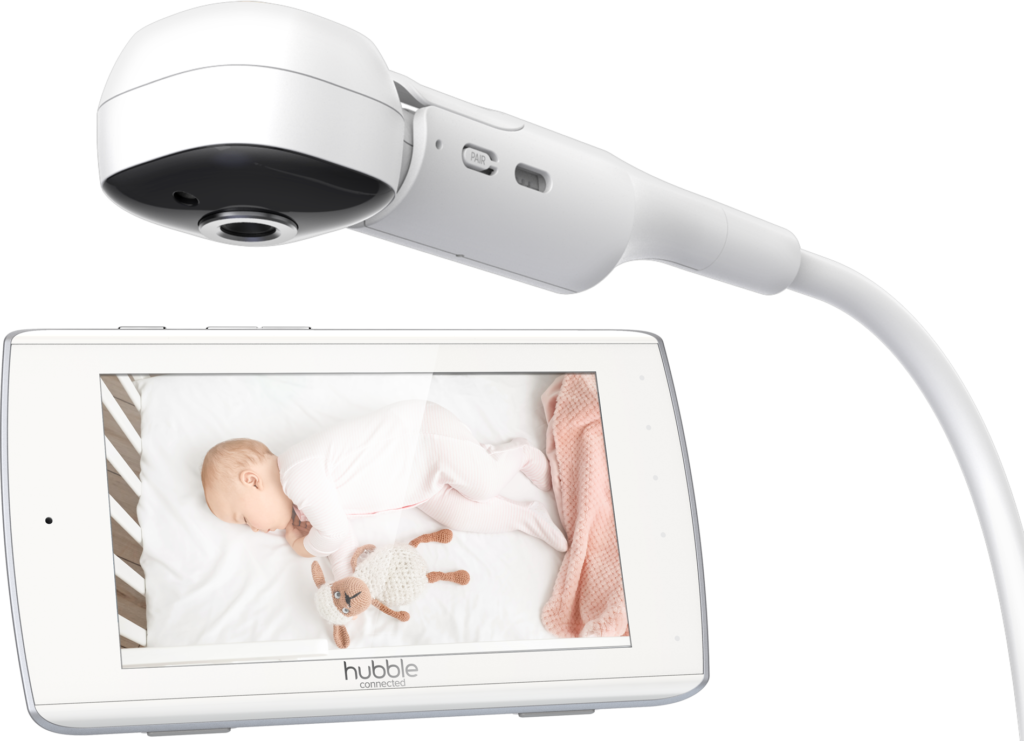 General Questions
Which cameras are compatible with this monitor?

Nursery Pal Crib Edition BU accessory camera
How to assemble the Crib Mount?

When mounting the camera to the head of the goose neck pole, please make sure that you hear a clicking noise which confirms the camera is firmly secured.
For more details, please check our tutorial video at:
Issues with the parent unit? Updating your parent unit:

If you are having issues with your touchscreen monitor, it is possible you need to update your handheld monitor.
In order to do this, please take few minutes to watch this tutorial video we made, which will explain this process thoroughly.
Troubleshooting
How to prevent interference between the camera and monitor?

Any large metal object, like a refrigerator, a mirror, a filing cabinet, metallic or metal clad doors, or reinforced concrete, aluminum siding (if being used outdoors) between the baby and parent unit may block the signal.
The signal strength may also be reduced by other solid structures, like walls, plumbing, heating and air conditioning ducts, electrical wires, or by radio or electrical equipment, such as TVs, computers, cordless or mobile phones, fluorescent lights or dimmer switches. In multi-story homes, homes with a basement, and multi- unit homes such as apartments plumbing, heating and air conditioning ducts, and electrical wires between floors will also reduce signal strength.
Use of other 2.4GHz products, such as wireless networks (Wi-Fi routers), Bluetooth® systems, or microwave ovens, may cause interference with this product, so keep the baby monitor away at least 5ft (1.5m) from these types of products, or turn them off if they appear be causing interference. The same goes for fans or white-noise machines.
If the signal is weak, try moving the parent and/or the baby unit to different positions in the rooms. Rotating the parent unit 90 degrees may also improve signal strength.
Connectivity issues?

Please read our interference checklist found on the post above and if the issue persists, you can check this troubleshooting video we made which will help you while resetting the units for normal operation:
Night Vision mode not activating?

If you have a flashlight or have a flashlight on your cell phone, there is a way to reset the night vision on the camera.
Take the camera into a dark room, preferably a bathroom or closet. Close the door to the room, plug the camera in and turn the lights off.
Shine the flashlight directly into the camera lens for 30 to 45 seconds. After this time has passed, remove the light from the eye of the camera. Allow the camera a few seconds to readjust and then check the video on the monitor. The night vision issue should be resolved.

Note: An alternative method to reset the infrared is to gently put your finger over the photo sensor in front of the camera for 15 seconds and then let go.
Pairing an additional camera unit?

First, please make sure to check if the camera is compatible by reading our compatibility list found at this page.
You can check the troubleshooting video we made that explains the additional camera pairing process:

Press the MENU button or swipe up from the bottom of the screen for touch screen models and the menu bar will pop up.
Press the LEFT button or RIGHT button, or swipe left on touch screen models until the camera is highlighted, and the DEL/X ADD/+ VIEW or SCAN menu will pop up.
Press the UP button or DOWN button or touch the + button on touch screen models to select add and press the OK button to confirm.
Camera 1, 2, 3 or 4 will pop up, press the UP button or DOWN button, or touch camera number on touch screen models to select the desired Camera, and press the OK/Pair button to start searching for a camera unit.
Immediately after previous step, please press and hold the PAIR button on the bottom or side of the Baby Unit until the pairing tone is heard. The unit will beep and the image from the camera will appear.
When the camera has successfully been paired with the parent unit, remove the camera (DEL/X) from the old camera slot.
How to setup the camera with HubbleClub app?

Please make sure to download the latest version of the HubbleClub app:
Once the app is downloaded, please check this tutorial video we made to explain the setup process:
Warranty
Consumer Products and Accessories Limited Warranty ("Warranty")

Consumer Products and Accessories Limited Warranty ("Warranty")

How to Obtain Warranty Service or Other Information?
To obtain service or information, please email:

Email: support@hubbleconnected.com

General Information

What Does this Warranty Cover?
Subject to the exclusions contained below, BINATONE warrants that this Hubble Connected branded product ("Product") or certified accessory ("Accessory") sold for use with this product that it manufactured to be free from defects in materials and workmanship under normal consumer usage for the period outlined below. This Warranty is your exclusive warranty and is not transferable.

Who is covered?

This Warranty extends only to the first consumer purchaser, and is not transferable.

What will BINATONE do?

BINATONE or its authorized distributor at its option and within a commercially reasonable time, will at no charge repair or replace any Products or Accessories that does not conform to this Warranty. We may use functionally equivalent reconditioned/ refurbished/ pre-owned or new Products, Accessories or parts.

What Other Limitations Are There?
ANY IMPLIED WARRANTIES, INCLUDING WITHOUT LIMITATION THE IMPLIED WARRANTIES OF MERCHANTABILITY AND FITNESS FOR A PARTICULAR PURPOSE, SHALL BE LIMITED TO THE DURATION OF THIS LIMITED WARRANTY, OTHERWISE THE REPAIR OR REPLACEMENT PROVIDED UNDER THIS EXPRESS LIMITED WARRANTY IS THE EXCLUSIVE REMEDY OF THE CONSUMER, AND IS PROVIDED IN LIEU OF ALL OTHER WARRANTIES, EXPRESS OR IMPLIED. IN NO EVENT SHALL HUBBLE CONNECTED OR BINATONE BE LIABLE, WHETHER IN CONTRACT OR TORT (INCLUDING NEGLIGENCE) FOR DAMAGES IN EXCESS OF THE PURCHASE PRICE OF THE PRODUCT OR ACCESSORY, OR FOR ANY INDIRECT, INCIDENTAL, SPECIAL OR CONSEQUENTIAL DAMAGES OF ANY KIND, OR LOSS OF REVENUE OR PROFITS, LOSS OF BUSINESS, LOSS OF INFORMATION OR OTHER FINANCIAL LOSS ARISING OUT OF OR IN CONNECTION WITH THE ABILITY OR INABILITY TO USE THE PRODUCTS OR ACCESSORIES TO THE FULL EXTENT THESE DAMAGES MAY BE DISCLAIMED BY LAW.
Some jurisdictions do not allow the limitation or exclusion of incidental or consequential damages, or limitation on the length of an implied warranty, so the above limitations or exclusions may not apply to you. This Warranty gives you specific legal rights, and you may also have other rights that vary from one jurisdiction to another.

Exclusions

Normal Wear and Tear – Periodic maintenance, repair and replacement of parts
due to normal wear and tear are excluded from coverage.

Batteries – Only batteries whose fully charged capacity falls below 80% of their
rated capacity and batteries that leak are covered by this Warranty.

Abuse & Misuse – Defects or damage that result from: (a) improper operation, storage, misuse or abuse, accident or neglect, such as physical damage (cracks, scratches, etc.) to the surface of the product resulting from misuse; (b) contact with liquid, water, rain, extreme humidity or heavy perspiration, sand, dirt or the like, extreme heat, or food; (c) use of the Products or Accessories for commercial purposes or subjecting the Product or Accessory to abnormal usage or conditions; or (d) other acts which are not the fault of Hubble Connected or BINATONE, are excluded from coverage.

Use of Non-Hubble Connected branded Products and Accessories – Defects or damage that result from the use of Non-Hubble Connected branded or certified Products or Accessories or other peripheral equipment are excluded from coverage.

Unauthorized Service or Modification – Defects or damages resulting from service, testing, adjustment, installation, maintenance, alteration, or modification in any way by someone other than Hubble Connected, BINATONE or its authorized service centers, are excluded from coverage.

Products Covered Length of Coverage

Consumer Products: One (1) year from the date of the products original purchase by the first consumer purchaser of the product.

Consumer Accessories: Ninety (90) days from the date of the accessories original purchase by the first consumer purchaser of the product.

Consumer Products and Accessories that are Repaired or Replaced:
The balance of the original warranty or for Ninety (90) days from the date returned to the consumer, whichever is longer.

General
Altered Products. Products or Accessories with (a) serial numbers or date tags that have been removed, altered or obliterated; (b) broken seals or that show evidence of tampering; (c) mismatched board serial numbers; or (d) nonconforming or non-Hubble Connected branded housings, or parts, are excluded from coverage.


Communication Services
Defects, damages, or the failure of Products or Accessories due to any communication service or signal you may subscribe to or use with the Products or Accessories is excluded from coverage.

How to Obtain Warranty Service or Other Information?
To obtain service or information, please call:

Email: support@hubbleconnected.com

You will receive instructions on how to ship the Products or Accessories at your expense and risk, to a BINATONE Authorized Repair Center. To obtain service, you must include: (a) the Product or Accessory; (b) the original proof of purchase (receipt) which includes the date, place and seller of the Product; (c) if a warranty card was included in your box, a completed warranty card showing the serial number of the Product; (d) a written description of the problem; and, most importantly; (e) your address and telephone number.

These terms and conditions constitute the complete warranty agreement between you and BINATONE regarding the Products or Accessories purchased by you, and supersede any prior agreement or representations, including representations made in any literature publications or promotional materials issued by BINATONE or representations made by any agent employee or staff of BINATONE, that may have been made in connection with the said purchase.